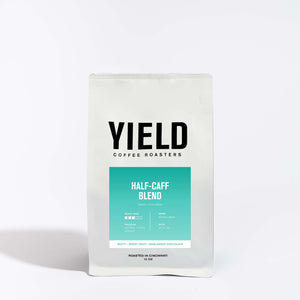 Tastes wonderful
Second time ordering half-caff, love the flavor & roast level.
Best coffee
I started drinking half caff due to hormone health, and let me tell you....this makes it worth it! The taste is amazing and I'm not drinking all the caffeine. My morning coffee is seriously the highlight of my day.
Great Half-Caff Blend!
This is my second bag of Yield coffee. I got the Brazil Primavera first, which was lovely. But I try not to do full-caff every day. I usually will buy some decaf and regular beans and mix them myself, but when I saw that this was already blended I was so excited! The flavors in this bag are wonderful and balanced for a great cup of coffee. I brew with a pour over and it's fantastic!